Main image
Click to view image in fullscreen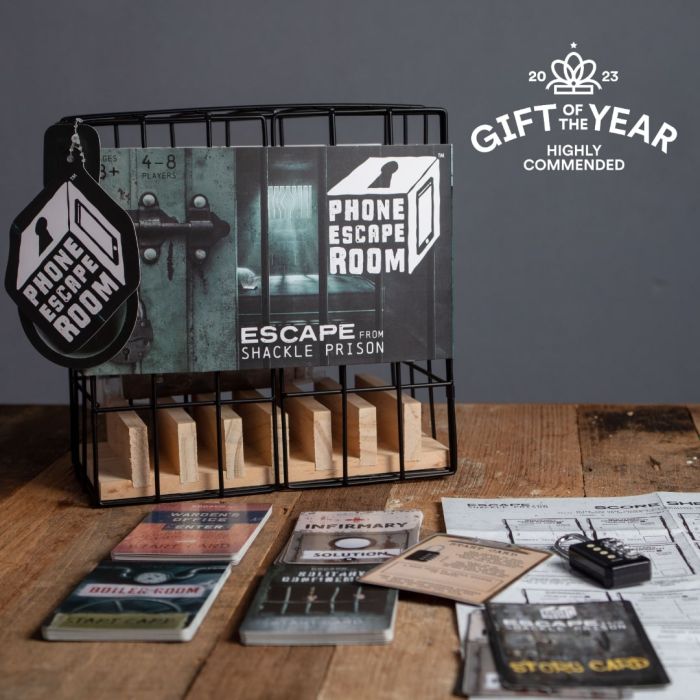 Phone Escape Room Escape Shackle Prison - Game
Phone Escape Room Escape Shackle Prison - Game is available to buy in increments of 6
Solve the clues. Discover the hidden code. Unlock your phone.
You and your friends all wake up in a dark room, with no recollection of how you got there. You soon realize you have been robbed of all communication devices and locked away in a crumbling, abandoned prison. You have until daylight to work together to break out and unlock your devices to contact help, or you may be trapped...forever! Do you have what it takes to solve the riddles and piece together the code, or are you bound to die in your cold, damp cell? With four dark and creepy 'rooms', you must answer all the questions and riddles on the playing cards correctly, then fill in the score sheet and decipher the locked 4 digit combination!
Complete with 54 escape room cards, a 4 digit combination padlock and a score sheet, all packaged within a metal cage, featuring a phone tray, this awesome twist on a classic escape room is the perfect novelty gift for families, puzzle lovers (and phone addicts) on their birthday or play together during the holidays! Simply add your phones, lock the cage, and let the games begin...
ESCAPE TO FREEDOM - With a captivating storyline, cryptic riddles, and a phone cage, you need to work through the escape room question cards to crack the code and unlock your devices!
GAME CONTAINS - With 54 cards to work through, a printed score sheet, combination padlock, and cage for your phones, this exciting game is the perfect games night, all-in-one!
DO OR DIE - With a riveting storyline and graphic themed packaging, this game will soon have you convinced that, if you fail to escape, you may be trapped…forever!
GREAT GIFT FOR FAMILIES - With all devices safely locked away, this is the perfect gift for friends and family looking to work together and spend quality time on a birthday, games night, or at Christmas! Suitable for children ages 8+, this is an exciting game that the whole family can enjoy!
FUN PUZZLE GIFT FOR CHILDREN - More challenging than a card game and better fun than a board game, this puzzling escape room makes it the ultimate gift for kids on their birthday or at Christmas!
Depth : 7.75 inches
Height : 4.75 inches
Width : 7.75 inches