Main image
Click to view image in fullscreen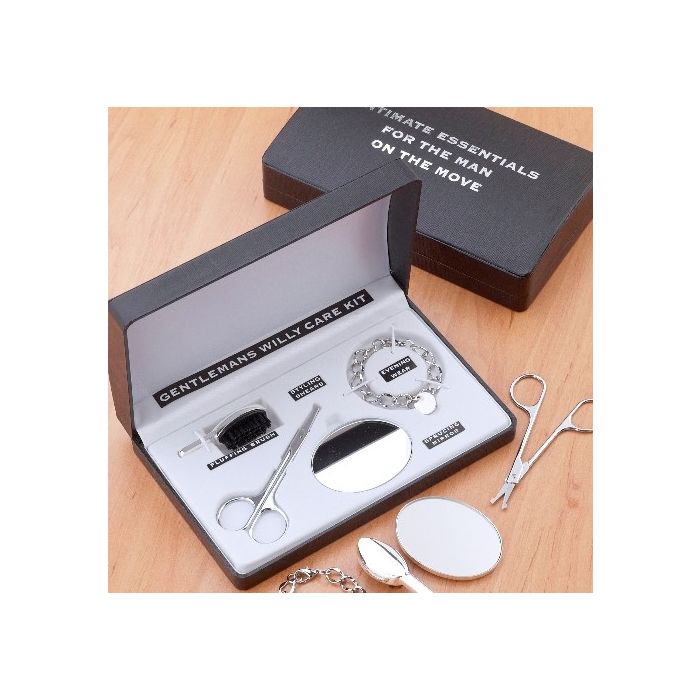 Gentlemans Willy Care Kit (Vanity Case)
Gentlemans Willy Care Kit (Vanity Case) is available to buy in increments of 3
How does your garden grow? Is it well pruned, with a perfectly manicured lawn? Or is it an overgrown thick bush? Surprise your missus this valentines and do a bit of landscaping in your own secret garden! This hilarious Gentleman's Willy Care Kit is a necessity when it comes to taking care of your little man, because immaculate grooming is very important in these modern times! Complete in a decorative leather-look case with silver engraved text, this set includes classic styling shears, fun fluffing brush, sprucing mirror and a fashionable evening wear piece, so you can look incredibly dapper no matter where you are. This is a brilliantly hilarious gift to yourself or a significant other who needs to make their nether regions presentable.
Perfect Gift for the Man That Has Everything – Funny Gag Gift For any Friend, This is Perfect Novelty Willy Grooming Kit
Comes In a Stylish Gift Box – Packaged In a Luxury Gift Box, This Novelty Gift Is Far From Novelty Quality
Makes a Cool White Elephant Gift – Whether It's For a Friend, Family Member or Husband, This Willy Care Kit Makes a Fun Gift for Birthdays, Christmas and White Elephant
Please be sure to check your spelling as carefully as you are able to. We cannot be held responsible for your typos or bad spelling.
Measures aprox. 27 x 5 x 5 cm
Depth : 6.25 inches
Height : 1.75 inches
Width : 5.50 inches